Now We're Cookin' (with commercial kitchens in Evanston, IL for Food businesses) is partnering with Broad Reach New Media, specialists in web video marketing, in offering a seminar focusing on video web strategies. Interested participants can reserve a spot in the session scheduled for July 15.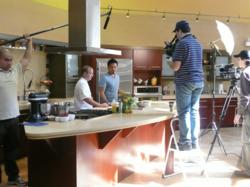 Video in process
100 million people take a social action on You Tube every week!
Evanston, Il (PRWEB) June 25, 2013
Broad Reach New Media will be bringing their web video marketing expertise to Now We're Cookin's commercial and demonstration kitchens in Evanston, Illinois for a short but effective seminar for Food Business owners.
YouTube has evolved to be the number two search engine, making videos an essential part of any marketing plan. The marriage of culinary skill, social media and story-telling expertise promises to deliver dynamic and unique results that will help clients "Get Found On The Web" This seminar will help participants understand how, why, and when to incorporate video into online marketing activities to dramatically enhance their impact. As a bonus, each business owner will receive a complimentary photo (head shot) to be utilized in web marketing and social media campaigns. The seminar costs $25 and is scheduled for Monday, July 15, from 6 – 7:30.
Participants will receive priority booking for a follow-up workshop in Broad Reach New Media's portable studio (to be scheduled in August). In the subsequent session, participants will receive a web video ready to be utilized in a variety of social media environments.
About Now We're Cookin':
Now We're Cookin' is a culinary center promoting culinary entrepreneurship and innovative culinary events. Its commercial kitchens are home to small culinary enterprises and host to the new Food Business Incubator program which is structured to accelerate the progress of food business start-ups. In the exciting demonstration kitchen, Now We're Cookin's team of talented chefs conduct a wide range of cooking classes, host private parties and events as well as corporate team meetings, schedule celebrity chef demonstrations and welcome film/video production teams.
Broad Reach New Media specializes in telling client's stories using web video marketing, photography and social media. Broad Reach New Media has over 10 years of experience performing a wide variety of internet marketing and web video marketing activities.